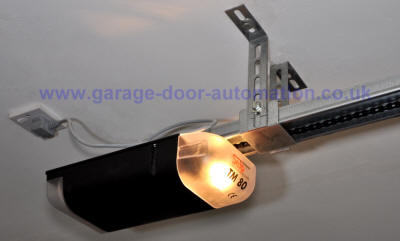 Seip TM80 electric operator - the ultimate choice for side hinged doors
Ultra quiet DC motor with soft start & soft stop speed control
Unrivalled safety for your family & pets

The Seip TM80 garage door operator is a well engineered German made unit with many distinct advantages over the competition, the most notable being progressive acceleration and deceleration of the motors speed to provide smoother door movement with reduced stress & quieter door closure by slowing down just prior to closing and its ability to automatically learn and memorize the precise operating characteristics of your door and stop the motor immediately an

obstruction is detected to provide the highest possible level of safety for your family & pets and also protect the doors from damage should they become obstructed.

Maintenance-free with quick & simple Installation
Seip's unique track design with pre-assembled maintenance-free self adjusting chain tension makes D.I.Y. installation a joy !

Don't just take our word for it ! - Read what ours customers say !

Just completed fitting a Seip electric operator, excellent construction, easy to align, just follow the comprehensive instructions. A 1st rate company who understands the customer - Recommended - Steve Rowe, Formby, Lancs.
Excellent work, extremely happy with the Amourelle barn door automation installation. I really recommend this firm - very tidy and thorough. A true craftsman !
Nigel Smith, Camberley, Surrey.
---
Prices & On-Line Ordering

The prices shown below include 2 x 'Midi' SKR433-3 remote controls as standard, however you can add additional remotes of either style to your order if desired. Prices for additional remotes can be found above.

How to order:
Enter the keyfob quantities you require into the boxes beside the Seip operator model of your choice, if you do not wish to add extra remotes then simply leave the quantity at zero. Once you have made your choice, click 'Buy Now' & proceed to the checkout.


Please note, the TM80 is now discontinued. Please call us for a suitable replacement.

Seip TM80 operator with AP2006 barn door arms to suit one pair of side-hinged doors up to 3Mtrs total opening width
Remote Controls: includes 2 x 'Midi' SKR433-3 remotes as standard

Availability: Discontinued
Order on-line by 12 noon for Next-Day delivery
Securi-Dor Special - Save £ & Defeat the Burglar
With our Securi-Dor AP2007 automatic multi-point locking system
(this discount deal will be offered to you at the on-line checkout)
---
Free Delivery option to most Mainland UK* destinations
*carriage charges apply on deliveries to some remote locations
(see Courier delivery map for details)
PLEASE NOTE:
Orders received by 2pm Monday to Thursday are despatched by overnight courier for delivery the next working day. If you are not at home to sign for the parcel from, 8.30AM to 5.30PM please provide an alternate address on our on-line order checkout page
Seip operators are available to UK & European specification only
We do not export Seip operators overseas

---
Overview of features

Quick assembly system
Automatic chain tensioning
Automatic force measurement to EN 12453 safety spec.
EN 12445 compliant & CE-compliant
Ultra quiet DC motor with soft-start and soft-stop speed control
Low power consumption (2 Watts standby)
Totally maintenance free - no oiling required
Five year manufacturers guarantee
(including transmitters)
Secure 433MHz rolling code remote control system
2 or 4-channel keyfob style transmitter option
Wall mounted push button supplied as standard
Battery backup & solar powered versions available > details
Automatic integral 230V 28 Watt halogen courtesy light
Adjustable automatic courtesy light time duration
Pre-movement warning light (optional)
Automatic reverse if obstruction detected during closure
Connections for optical break-beam safety stop device
Emergency manual release cable supplied as standard
(for use either via a locking door handle or as a pull-cord)
Low head-room steel 'C' rail drive track, a minimum
of 35 mm above the door is all that is required

Technical Specifications - Seip TM80

Pulling Force: (nominal/peak)
80kg/90kg
Automatic Self Learning Force-Setting:
Yes
Motor:
24 V dc - low-noise
Max. Running Speed:
14 cm/sec
Internal Courtesy Light:
230 Volt 28 Watt halogen
Pre-Warning Light: (to warn of pending door movement)
programmable option
Timed Auto Close:
programmable option (30 secs to 2 mins)
Adjustable Light Duration:
10 secs. to 10 mins
Duty Cycle:
50%
Soft-Stop adjustable in closing direction
Yes
Power Supply:
230V AC mains (via UK 13A plug)
Normal Running Length:
264cm
Overall Length:
316cm
Motor Head Height: (including track)

11

cm
Motor Head Width:
17.5cm
Motor Head Length:
36cm
C-rail track dimensions:
75mm x 33mm
C-rail & chassis construction:
2mm zinc coated steel
Minimum Space above the Door:
35mm
Shipping Weight: (including barn door arms)
26kg

Click image to enlarge

A wall mounted pushbutton switch
is included


Seip operators are supplied with the following:

Comprehensive DIY manufacturer installation instructions
Wall mounted internal pushbutton control switch
40 Watt Courtesy lamp bulb
Mounting brackets
Fitted 13A mains plug
Cable operated emergency manual release info
(this can be connected to the door's existing locking handle
to enable manual operation from outside)
Expert telephone assistance to ensure hassle-free DIY installation

Optional Accessories All our prices are subject to 20% UK VAT

---

Motor mounting brackets (one pair)
dimensions: 225mm x 93mm x 35mm
One pair are included with all Seip operators but extension brackets will be required if the distance from the top of your door to the ceiling is greater than 250mm (Note: if hammered out flat, these brackets can extend the original brackets by up to 275mm)
supplied with nuts, bolts & washers as illustrated

Our ref: APL0046


---

Steel punched angle brackets (one pair)
dimensions: 23mm x 23mm x 760mm
supplied with nuts, bolts & washers as illustrated

Our ref: APL0047


£
excl. VAT

---

Wall holder for oval midi keyfob
This will convert a Seip midi keyfob
into a wireless wall control switch
(keyfob can be removed easily for portable use)

Our Ref: MH03

£
excl. VAT

---


Seip wireless keypad

Wireless external digital numeric entry keypad
can be programmed with up to four separate personal security codes to provide individual control of four doors or gates - compatible with all current Seip door operators and Seip EKR1MCG & EKR1MCT receiver units only
Two alkaline AA batteries are included and the
unit has a battery life of approximately 5 years.
dimensions 83mm x 86mm x 29mm
Seip Ref: SKR4C433-1

£
excl. VAT


---

Domino external digital entry system

The DOMINO keyless digital entry system is a simple and secure way to open and close your garage door without the need for a key or remote control.

Our Ref: GD-1

(three 'AA' batteries included)
£
excl. VAT

---

Securi-Dor automatic bottom locking kit
for AP2006 barn door operating arms

Our Ref: AP2007

£
excl. VAT

---

External emergency release kit

Includes a locking handle with two keys,
bowden cable and all necessary fittings.

Our Ref: AP2008
This item has been discontinued
Request a specification by e-mail for a Seip operator to suit your door

Would you like to add remote control to your:

Garden Lighting
Water Features
Pond Pumps
or Entrance Gates ?

Seip manufacture a receiver to enable items such as gates or garden pumps & lights etc. to be operated from spare buttons on your Seip keyfob transmitter, the receiver is housed in a weatherproof enclosure making it suitable for indoor or outdoor applications
Range aprox 75 - 100mtrs
• Add or Read a Review of this Product •
• Our Portfolio of Automated Side Hinged Door Installations •
• Fitting Instructions • Securi-Dor AP2007 Automatic Floor Bolt •
• Replacement Seip Transmitters • Seip Operator Spares •
• Site Index • Home Page • Contact Us •